I didn't have a nursing cover with Abby. I always just covered up with a blanket when I needed some privacy. I thought a real cover would be a good thing to have this time, especially since I have Abby around who is kind of a blanket nabber and may expose me (Eek!).
Nursing covers are kind of expensive, and I kind of feel uneasy about products with names like "Udder Cover" and "Hooter Hider" so I figured I would make my own.
I found an awesome tutorial on this great sewing site: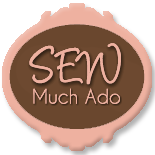 It was a quick, easy project. I'm really happy with how it turned out!
I can't wait for baby sister to get here so I can put this bad boy to work!